It's a shame that it is raining today, although I have no idea what the weather was like when he was born as I was in hospital til 12th April and I even then it was dark by the time I got out.
Here's some photographs of the big day!
Gift from a lovely PR company and some of his cards he got from family.
Leapfrog Learn & Groove Musical table from Gran an Grandad G.
Mega Bloks Rescue Adventure from Mummy and Daddy.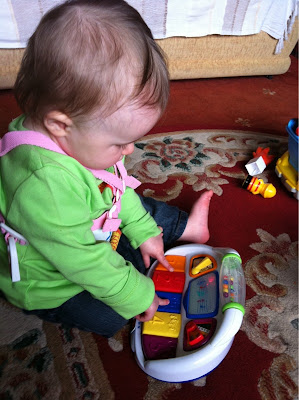 Baby Einstein toy from Nana and Grandad H.
Baby Al eating sandwiches and chicken just like a big boy.
The cake that Mummy made... Sorta.
The cake was almost gone by the end of the day. I cheated with the cake and bought a swiss roll and ready made icing. I just shaped the roll to a 1 and pasted the icing onto it. Added some blue icing as a border and voila! I'm no baker but for my first cake I think I did alright.
This time last year we were in Walsall Manor Hospital, Daddy went home to catch some sleep and I enjoyed a nice meal in a private room with my newborn son.
Happy Birthday, My Angel.
- Posted using BlogPress from my iPhone